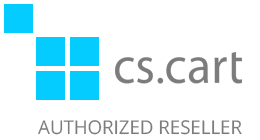 Grow your online business with the ecommerce platform trusted by the world's leading brands. Small and simple or large and complex, Percepticon can build you a Magento solution that will fit and adapt with your needs. Learn more about Magento and our services.CS-Cart is an online retail solution with easy-to-use interface that allows you to start selling online immediately. The software is PHP- and MySQL-based and ready to use for online stores.
Its feature set fits with businesses of any size, from a small single-product shop to a full-feature online store with several independent storefronts. Access to the source code is open for easy modification.
CS-Cart's unique feature, Widget mode, is an ability to add a CS-Cart-based online store into any webpage that allows external javascript files.
Multi-Vendor by CS-Cart is an extended edition of CS-Cart that enables you to create an online marketplace where multiple vendors can manage sales of their own products through one common web store.
Multi-Vendor is a perfect solution for web stores with multiple independent vendors and virtual shopping malls with many separate departments. It incorporates all the features of CS-Cart and provides the multi-vendor functionality allowing different vendors to sell and manage their own products in a common storefront.
Check out the demo, and talk to us to learn more about how Percepticon and CS-Cart can help you achieve ecommerce success.
Ready to start something?